How to Winterize Your Home (And When to Call an Expert)
December 2023


Winter can be hard on your home. But by checking off some home maintenance tasks in fall and early winter, you can be sure your home is ready to weather the cold.
Between rain, snow, and extreme temperatures, even small issues can add up to large and costly problems if left unattended. Here are a few things you can do in fall and early winter to ensure your home is properly winterized before the cold season sets in.
Clean out your gutters
Now's the time of year when leaves, acorns, pine needles, and other debris can easily fall into and clog up the gutters. Make sure that water can easily flow through the gutters so icicles and ice dams don't form.
Check all the pipes to prevent freezing
Be thorough: Chances are your home has more faucets and pipes (and potential trouble spots) than you think. Disconnect and store all your garden hoses so they won't freeze up. If your home has a separate shut-off valve for external faucets, shut off the water, drain the faucets, and place covers over them for the winter.
Disconnect and drain any sprinkler systems. If you have an extensive underground sprinkler system, you may want to call a professional company to blow out any leftover water that may be in the underground lines. For the rest of your home, be sure you know where the main waterline shut-off is located so you'll be able to stop major problems before they occur.
Check weather stripping
Check doors and windows and fix leaks to increase energy efficiency.
Prepare a 72-hour emergency kit
Even if your home is properly winterized, you could still lose power during a bad storm and roads could be treacherous. Make sure you have enough food, water, medicine, batteries, and other supplies to last a few days. Many camping and outdoor stores offer pre-made 72-hour kits.
When to bring in the experts
Once you've tackled the DIY projects, it's time to schedule a few service calls.
Have your heating system inspected
The colder it gets, the busier most HVAC professionals will be. Don't put off having your system inspected and tuned-up to ensure it's running correctly and efficiently. A proper servicing will include:
Checking for carbon monoxide
Cleaning and replacing air filters
Checking blower operation
Cleaning motor and fan
Inspecting gas piping to furnace
Inspect and shut down your air conditioning
Make sure your air conditioning system is properly shut down for winter:
Drain any pipes or hoses coming from your air conditioner
Vacuum out any pools of water you have in the A/C's drain pan
Cover your central air unit with a plastic air conditioner cover to keep water and snow out
Trim trees and vines
Trees can grow a lot in a year, extending their branches over your house, driveway, or your neighbor's property. Keep them properly pruned—ice and snow can accumulate on the branches and cause them to snap off. Cars, sheds, roofs, and other outdoor items can be severely damaged by even the smallest icy branches.
Keep your fireplace working safely
Have a professional come in every year to clean the chimney and make sure dampers and flues are functioning properly. Keep tools and screens in working order, and clear ash away regularly.
Stay safe and cozy at home this winter
Follow these thoughtful tips and you should be able to ride out the worst of "Old Man Winter" without any serious trouble.
---
Source: "11 Ways to Winterize Your Home on a Budget." BobVila, accessed October 2023.
Related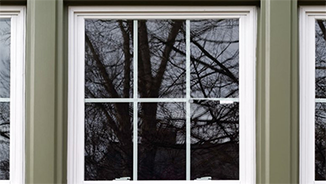 Keep cold temperatures from causing costly problems when your house is exposed to the winter elements.
Winter Home Prep Video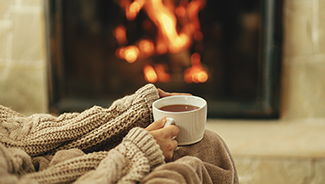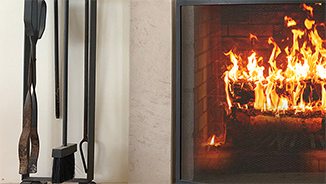 Keep the roaring fire where it belongs: in the fireplace. Here are some thoughtful ways to maintain your fireplace.
Fireplace Safety
Home and Auto are best together.
Besides combining home and auto coverage, our Member's Best policy provides a collection of exclusive benefits.
Member's Best