Over 120 Years of Thoughtful Coverage
We come from humble beginnings.
In 1898, in the small town of Enumclaw, Washington, a group of residents joined together to create the Farmers' Mutual Insurance Company. When bad things happened losses were tallied and each member paid their respective share.
The company focused on serving farms throughout Washington State up until the late 1940's when it began to offer insurance for families.
In 1952 the company moved into Oregon and Idaho.
In 1963 the company began to offer commercial insurance for main street business throughout Oregon, Idaho, and Washington.
On May 1, 1966, the name of the company was changed to Mutual of Enumclaw Insurance Company.
Steady growth continued into the new millennium.
In the summer of 2002, Mutual of Enumclaw expanded into Utah.
Enumclaw Property and Casualty Insurance Company launched in Washington in December 2002 to help us grow into new markets and to offer new and innovative products.
With the wind to our back…
In April 2014 we began to serve new friends and neighbors in Arizona.
In January 2018 we introduced ourselves to the great state of Montana!
In June 2019 Mutual of Enumclaw was recognized for the eighth year in a row as one of Washington's '100 Best Companies to Work For' by Seattle Business Magazine.
In April 2020, we continued our expansion and now offer coverage throughout Wyoming.
In November 2021, Mutual of Enumclaw was recognized for the tenth year in a row as one of Washington's 100 Best Companies to Work For by Seattle Business magazine.
We're excited about the future. Whether you are a member, an agent, or one of our talented employees we know that there is no way we could have gotten this far without you. Thank you.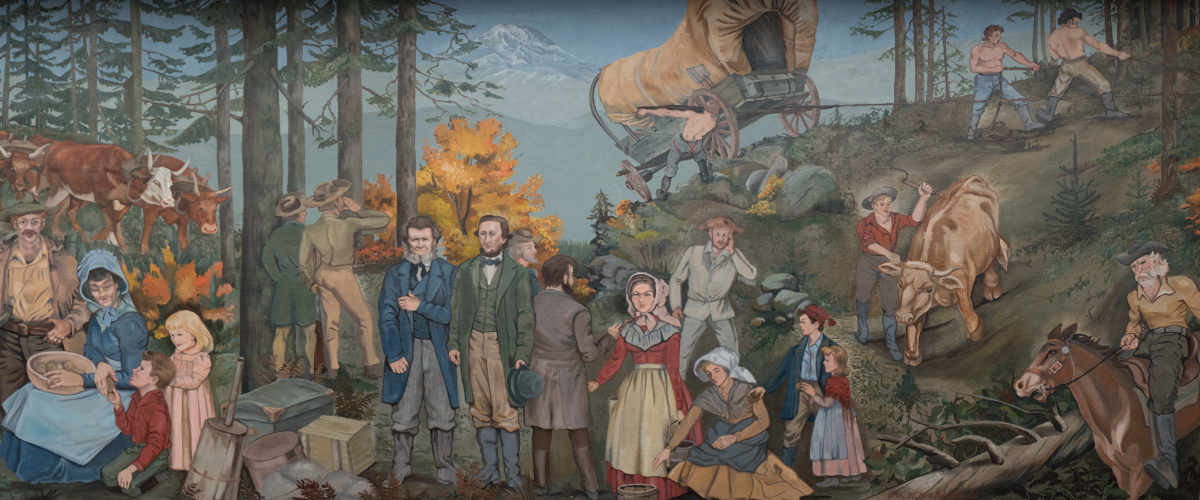 This mural, depicting the arrival of John Longmire's wagon train to the Naches Pass in 1853, occupies a central wall of our Home Office lobby in Enumclaw, Washington.
A history of thoughtful coverage.
We were founded in 1898 by a group of local farmers who wanted to look out for each other. Although we have steadily grown since then, that same spirit exists today.
About Us